Tuesday, February 28th, 2006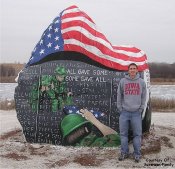 I received a story in an email a few days ago with this picture and several others attached. I found a DOD – American Forces Press Service story validating the email. This picture shows a rock in Iowa that Ray "Bubba" Sorensen II has painted every year for Memorial Day to honor our Veterans.
The email I received had the following text in it:
"For generations, kids have painted slogans, names, and obscenities on this rock, changing its character many times. A few months back, the rock received its latest paint job, and since then it has been left completely undisturbed. It's quite an impressive sight."
Visit Bubba's web site at bubbazartwork.com.
Hat tip: E. Fisher