The WayBackMachine Internet Archive is way cool. It is great for a laugh or too drudge up some views of the days of old. I even laughed at my own sites in this archive. Below are a few notables that you might find interesting. I think that Drudge Report has got to be the least changed web site format that I pulled up. Below shows the Drudge Report site back on December 6, 1998 as a sample of what you will see over at WayBackMachine.com.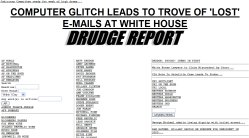 Other notables that you can click to see their archive listings led me to find that La Shawn Barber and Glenn Reynolds were once Blogger users. The Instapundit seems to have held his own for the longest. The Michelle Malkin archive of 3/1/00 led me to a story at the Jewish World Review. Below is the first paragraph from that story.
"WHERE HAVE ALL the churches gone? From Oregon to Florida, houses of worship are getting zoned out of their neighborhoods by government regulators who put high-priced sod above G-d."
I wonder why she could not spell out God?
---
Welcome to the open trackback Monday. Here are the the links to track this post.
Post URL:
http://www.hoei.com/blog/archive/2006/02/13/217/
Trackback URL:
http://www.hoei.com/blog/archive/2006/02/13/217/trackback/
Check out these other blogs: Mark My Words, Freedom Folks, RightWinged, Don Surber, Blue Star Chronicles, Quietly Making Noise, and Conservative Cat.