Update: You can see how our train turned out by visiting my Grill'n Time blog. There are a ton of pictures taken during the construction process.
There are a ton of creative things a family can do together especially during the holiday season. We get some really cool ideas from FamilyFun magazine. The picture below is a screen capture from their web site where you can go to see one of these great ideas.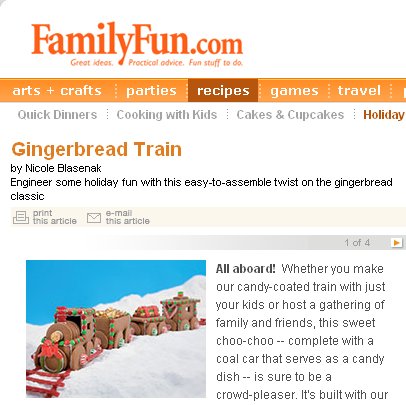 Our entire family is involved in making this Gingerbread Train this week. It started out as a joint project between our family and some friends, but nearly every adult and child involved in the project has come down with some form of illness that as sidelined them from participation. My wife Sherry could barely talk due to a scratchy voice earlier today and Caden had stuff start draining out of his left ear earlier this week. Riley as well as our friends have also been under the weather with varying degrees of cold and flu type symptoms.All this illness left me a little more involved in the Gingerbread Train project than originally planned. That's okay though because I was sad that this project was going down mostly during the day while I was at work. From the beginning I was assured to see the completed project since it was going to be one of the desserts for the last night of our current
Preparation for Parenting
class.
We have been taking pictures along the way. About half of the gingerbread dough was baked tonight. Sherry is planning to bake the rest of it Monday during the day so that it will be cooled off in time to assemble by the evening. Riley can't wait to see the train assembled. That boy loves trains.
Our class meets on Tuesday night, so we should be done in plenty of time to have a nibble after class that evening. I will post some pictures when we are done. Sherry and the boys have been working on some other cool holiday treats that I may get to capture some pictures of and share here if I they last long enough for a photo.