What are you doing for fun this Christmas season? I hope you are having as much fun as we are. Our family had a blast building this Gingerbread Train. I have posted some detailed pictures of the construction process on my Grill'n Time blog.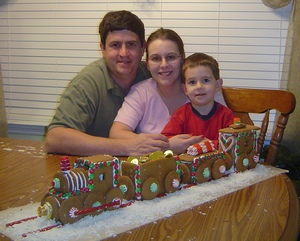 Our oldest son Riley had a blast with this project, but the construction was nowhere near as much fun as the consumption has been. At this point, we have given away two cars leaving only the engine and coal car. The engine and coal car look like they have been through a war zone.
This project has been a ton of fun. It has officially been adopted as a family tradition for us. We already have some cool ideas for new and improved ways to decorate the train next year.
Don't forget to check out Caden's Page to read about some of the other things going on with our family.