Tuesday, January 30th, 2007
There has been much buzz about the possibility of Google building a data center right here in Goose Creek, SC. This has become a subject of frequent conversations among the engineers where I work. Some have dreams of a better life through Google's corporate culture. I first heard the story during one of those water cooler style talks in the lab at SPAWAR. Later that say I saw a post on Trace Pupke's blog. Trace dug up some numbers that say, "…they plan to make a $750 million investment there, employing at least 400 workers who will earn an average of $90,000 a year." The Post and Courier ran a story last week to give us a taste of what Google might be looking for when filling these 400 positions. Here are my answers to a few questions found in the P&C article:
What programming languages are you familiar with? C, C++, Basic, Fortran, several markup languages…Does it really matter if I am applying for the Network Engineer position?
Is your work space messy or neat? Neat, on the surface


Are you an extrovert or an introvert? Depends on caffeine level
What magazines do you subscribe to? AOPA Pilot and what ever techie journals I can get for free
What pets do you have? None, but I wish I had a Cheeah Pet. Oh, my back yard provides plenty of birds, squirrels, rabbits, and a raccoon from time to time. If that is not enough there are plenty of roadside whitetail deer and opossums in the local area that I have to dodge when driving at night.
The article goes on to say, "As things turned out, there was no single factor that seemed to find the top workers for every single job title. (And pet ownership did not seem to be a useful predictor of anything.)" Whew! I threw in the backyard and roadside stuff just in case the pet thing was a deal breaker.
The official word is not yet in on this mysterious Google data center,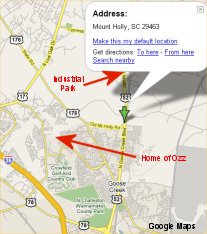 but you can pretty much bet that if it does come to Goose Creek (affectionately known as Duck Ditch by some natives) then it will likely be planted in the Mt Holly industrial park just off of Highway 52 about half way between Goose Creek and Monk's Corner.
The local media has covered this story and a few bloggers. One commenter from the Charleston area by the name of Lynwood Hines (hines1957) did a great job of hammering out some criticisms by others leaving comments on a Valleywag post about Google's consideration of Goose Creek for one of its new data centers. The biggest beef in those comments seemed to center around the possibility of hurricanes hitting the coast of SC and disabling data centers. Hines said, "Keep in mind that other areas of the country are not immune to nature's energetic tantrums. Google's headquarters is located in Mountain View CA, which is at considerable risk from earthquakes."
A story published by The State newspaper's web site gave some information about yet another possible data center site in South Carolina. And there is always the Si-Fi version of the story found in the comments of a Slashdot post. My favorite comment on the Slashdot article can be paraphrased as "Google ain't stupid". Stay tuned for updates on this developing story from Google Creek, SC.
UPDATE: In December a company by the "named Maguro Enterprises paid nearly $17 million for about 520 acres in Mount Holly Commerce Park…"
Source
These property purchases in mid-December by Maguro Enterprises can be verified by sifting through the Berkeley Country property cards at: http://gis.co.berkeley.sc.us/
An article by Data Center Knowledge helps sort out whether Goose Creek is still in the running or not.