Monday, December 3rd, 2007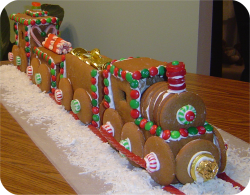 One of our family's favorite things to do during the holidays is to bake. This year we plan to carry on the Christmas season baking tradition by creating the Gingerbread Train once again. Last year was our first attempt and it was a huge success.
There are plenty recipes on the Internet to for building gingerbread houses and gingerbread trains. We got our recipe and templates from FamilyFun Magazine. Their online version gives detailed pictures of the entire process in addition to the train part templates and a gingerbread recipe that will make enough dough for two train cars.
Here are a few recommendations that we think will make the project even more fun:
Make extra train cars.
Use different candy to decorate.
Assemble the train on a movable surface.
In the event you prefer building a gingerbread house, check out Simply Recipes for instructions on How to Make a Gingerbread House.