Friday, September 21st, 2007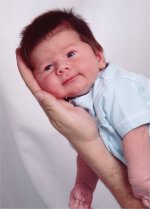 This little guy is a handful of joy.
This is a picture of me holding Josiah the latest addition to our family. Josiah is six weeks old today.  He is as beautiful in person as he is in the pictures.
You can read more about all of my three sons on Caden's Page.