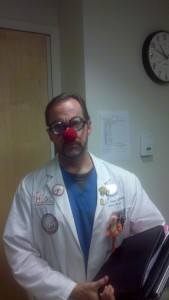 Caden has been home from the hospital for a few days now. Just before discharge we had a visit from a very strange looking doctor from the MUSC Pediatric Neurology department. At first glance you might think someone from the psych ward stole a lab coat and was playing pranks.  This guy had glasses as thick as Coke bottles and a giant round red nose.  This was no escaped psych ward patient, but was a very skilled doctor with the best bedside manner on the planet. He delivered belly laughs and smiles for everyone.  He delivered exactly what our family needed after such a long hard week.  As strange as he may look to others, he is a very familiar face to our family.  Dr. Rusty Turner is a dear friend to our family and stops by to visit us nearly every time Caden is hospitalized and emails me with encouraging words even when he can't stop by and visit.  We met him years ago through our mutual friends Gary and Anne Marie Ezzo and have been blessed by Rusty's gentle spirit and wonderful humor ever since. While Caden has never officially been under Dr. Turner's care as a patient, his lab coat is the one we most enjoy coming through the door while at MUSC.
Caden's discharge from the hospital was not without some drama. At one point on Tuesday Caden was in danger of be transferred to the ICU and then 12 hours later the doctors were recommending discharge.  What happened was that a couple of blood tests on Monday and then again on Tuesday morning came back with high CO2 levels.  That meant that Caden was not breathing off the CO2 form his lungs and one doctor in particular who had not even seen Caden in person was recommending that he be put on a BiPap machine to help bring down the CO2 levels. The BiPap can only be administered in a higher level unit like and ICU or a step down unit.  The step down unit was full so Caden was in danger of being transferred to the ICU to get this treatment. However, he was sitting up in the bed laughing and playing and looked nothing like he had high CO2 levels.  Early Tuesday morning I had been told that they test were going to test his blood again since his condition seemed to be improving.  By message from the nurse the new blood test was not planned and instead they were making plans to transfer him to the ICU. I asked that the doctors come back to explain why they were doing something different than what they had told me in the morning when nothing with Caden's condition had changed for the worse. Without getting into the nasty details, I'll just say that they did another blood test that did show Caden's they changed plans on the BiPap and then did another blood test over night that resulted in their recommendation to discharge Caden.
Caden has been home since Wednesday evening and has been doing well ever since. His last two nights have been rough, but he did get the best two nights sleep on Wednesday and Thursday nights that we have seen in a while.  That meant Sherry and I got better sleep too.

Sherry's mom has improved to the point that she has been removed from the respirator and feeding tube. She is still in the ICU, but is waking up and responding to Sherry, her dad, and the nurses.
Praise God and thank you for your continued prayers for Caden and Darla!