It is not often that we can say it has been a really good day in the hospital, but this one ranks well above average for sure…even though we are in the ICU. Caden's surgery was completed in record time and he is doing very well with the recovery process. Praise God! Thank you for interceding on Caden's behalf!
Caden could be discharged as early as tomorrow. I am cautiously optimistic since a number of different personalities must agree on that move…and getting discharged straight out of an ICU is VERY rare, not unheard of, we have actually done it, but still very rare.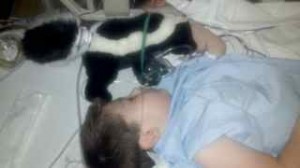 The surgery took all of about 15 minutes even though Caden and the skunk were in the operating room for a little more than two hours. The skunk is Caden's favorite stuffed animal and the staff was more than willing to let Caden take skunk into the OR and do whatever else he wanted to keep him and everyone else calm. Sherry said they would have probably let him stand on his head if he wanted to. Of course we completely cave on the child centered care approach when the little guy is about to be cut open. That is what I context with a capital "C". The picture if from a year ago, but still illustrates the scene very well. I think the skunk has been to surgery with Caden three or four times now.
Anyway, the majority of the time spent in there was in preparing Caden and drawing blood for a couple of clinics. Caden's immunologist asked for a full panel of test to be run on him a few months back, but she is completely fine with waiting until Caden is under anesthesia before trying to draw the blood. The immunology panel requires approximately a dozen different vials of blood to be taken. In addition to that the endocrinologist wanted their share of blood and the surgery team needs a few vials as well. So Caden became a little pin cushion after drifting off into LaLa land this morning.  The good news is that they gave Caden some Ativan through his g-tube to help him relax before taking him back to the OR. Once in the OR the anesthesiologist pulled out the mask that delivers the funny gas. Previously Caden has NOT like this part, but according to the doctor, this time Caden took the mask out of the doctor's hand and placed it on his own face and went off to sleep without any protest at all.
Caden was admitted to the PICU (Pediatric Intensive Care Unit) after leaving the recovery room. This was NOT the plan. We landed in the PICU because there were no available bed in the fancy new step-down unit. The doctors had a choice to go to a regular room or to send Caden to the PICU. Caden's orthopedic surgeon is openly admits that he prefers the conservative approach to post-op treatment with all of his patients, but especially with a medically complex little kid like Caden. The PICU is not nearly as bad as we expected this time. Normally there are no accommodations for sleeping at the bedside because most of the beds are only separated by a curtain. And when any patient gets to a point of requiring critical bedside treatment the families for all the other kids get escorted out of the unit. However, this unit is all but a ghost town today. Praise God for that as well! How much better news could you read today than that. The number of critically ill kids at MUSC is as low as I have ever seen it and the only reason we are even in the unit is because there was no room available.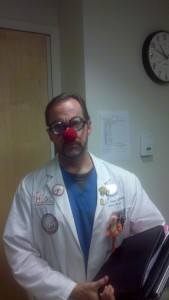 So with the unit being nearly empty we got put into what could be described as the penthouse suite of ICU rooms. We are directly above the room that Caden spent his first Christmas in almost 7 years ago. We have a wonderful view from this corner room and it has a couch that I can sleep on. AND…If another kids goes critical the staff can simply close the door to this room and leave me in here with Caden…and the skunk.

We had a visit from Andy one of the pastors at the church we have been attending regularly for several months now. That was a nice surprise and greatly appreciated. We very seldom get visitors beyond that really weird looking doctor with the very large red nose. He is our favorite doctor in the whole world even though Caden is not one of his patients. I feel like I am more a patent of Dr. Turner than any of the kids on the floor. He cares for us in a very special way by delivering belly laughs and smiles during some of our family's toughest times. His friendship is such a blessing to me and our entire family.
Prayer Requests
Please pray for:
– Caden's rapid and complete recovery
– Caden's protection from illnesses, infections, and complications
– Caden's comfort and continued self-control.
– Understanding and compassion for Riley, JJ and Levi
– Patience for Joe (Grandpa) as he cares for the other three boys solo for a few hours each day*
– Continued decrement, humility, and thankfulness for Sherry and me
* Because Caden is in the ICU Sherry will not be able to bring any of the boys up to see Caden or to spend the day. Siblings and visitors under age 12 are not allowed in the PICU.