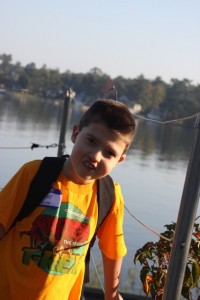 Admitting Caden to the MUSC Children's Hospital was a good move. Even though we have a difficult time getting rest while hospitalized there are some things that we just can't do at home. Most importantly Caden has been getting some IV antibiotics that are not available for kids in oral or g-tube delivery methods. He has also had some tests run to confirm what we are dealing with. The title I used "Double Whammy" is referencing the two things Caden is battling as mentioned in yesterday's update. One is a virus that was confirmed via a culture and the other is pneumonia (most likely bacterial) which was confirmed via chest xray after they heard crackles in his left lung. He is also battling an ear infection in his left ear.
As for the sleeping arrangement, Caden did not get to sleep until after 2am last night. If he is not sleeping I am not sleeping so we both were exhausted today. This was mostly caused by his ear pain and frequent alarms on his IV pump. The IV was alarming several times per hour due to a "patient side occlusion" which means there is a possible obstruction. It can be because of a kinked line or the IV tip can be up against a valve in the vien. The nurse then has to check the IV to make sure it is still properly placed and is not leaking. His nurse last night was a wee bit OCD in this area so she pretty much had him in tears every time the IV alarmed due to here poking and moving the IV around to check for placement and leaks. I didn't know viens even had valves until Caden came along. Oh the things I have learned about the human body and medical technology in the past eight years. If you are interested in reading about the beginning of our medical journey with Caden you can read my post titled Fathering a Borken Heart on DaddyLife.net.
Caden's Current Condition
The fever's have not completely disappeared. We did go more than 12 hours fever free and then Caden popped a 104.4 this evening around dinner time. That is one of the first things we expect to see go away to show signs that he is on the road to recovery. The doctors want to see him fever free and then spend another 24 hours or so in the hospital for observation and then we will likely get to discharge. Caden's left lung is still sounding "pretty coarse" as they doctor calls it. Caden is under the care of a doctor who has treated him for pneumonia before in 2011. If you track Caden closely you will remember that we spent 30 plus nights inpatient here at MUSC last year and most of those stays were due to illness. Several nights were due to recovery from back surgeries, but those three surgeries lasted an average of two nights each. So Caden spent over three weeks in the hospital mostly due to pneumonia in 2011 and also battled another three episodes at home.
Prayer 
Our friends the Youngs asked us years ago what specifically they could pray for so I like to share that here so you dont have to guess.
Praises
Caden's fever free 12 hours today
Surprise visit from Nana and Dallas to lift Caden's spirits
Grandpa's help with Caden's brothers
My employer who is understanding and supportive
Prayer warriors all around the world who lift up Caden and our family
Requests
Complete healing and restoration of Caden's body
Protection over all our boys' emotional and physical health
Rest and sweet sleep for Caden, mommy, and daddy
Thank you for your continued prayer and thanks for checking on Caden. I hope you enjoyed the photo of Caden taken in earlier this month at Camp Bob Cooper during the Southeast Family Camp.